Alkalizing Proteins, Vegan, Keto Health Bundles
Alkalize your body for optimum health benefits with these amazing alkaline, vegan (plant-based) proteins, keto-friendly, probiotics health supplements.
See more bundles with huge savings!
Digestive Health Bundle
Hippocrates said, "All disease begins in the gut". The Digestive Health Bundle was created to help you achieve & maintain optimum digestive health.
Your health begins internally in the digestive tract. If your digestive tract is void of enzymes or is colonized with bad bacteria, you could suffer from digestive issues like heartburn, indigestion, gas, bloating and constipation.
The Digestive Health Bundle promotes enhanced digestion with enzymes and growth of good bacteria with sbo probiotics to accelerate digestion and enhance absorption of nutrients.
ENZORB – Eating nutrients is great, but it's the absorption process that matters. Help your body absorb as many nutrients as possible with Enzorb, formulated with several plant-based enzymes that help break down protein into quickly digestible molecules.
PROBIOTICS – The gut is a complex ecosystem of many microorganisms and can easily be thrown out of balance, wreaking havoc on the body. Replace bad bacteria with the good kind, to effectively heal leaky gut syndrome and improve mental clarity.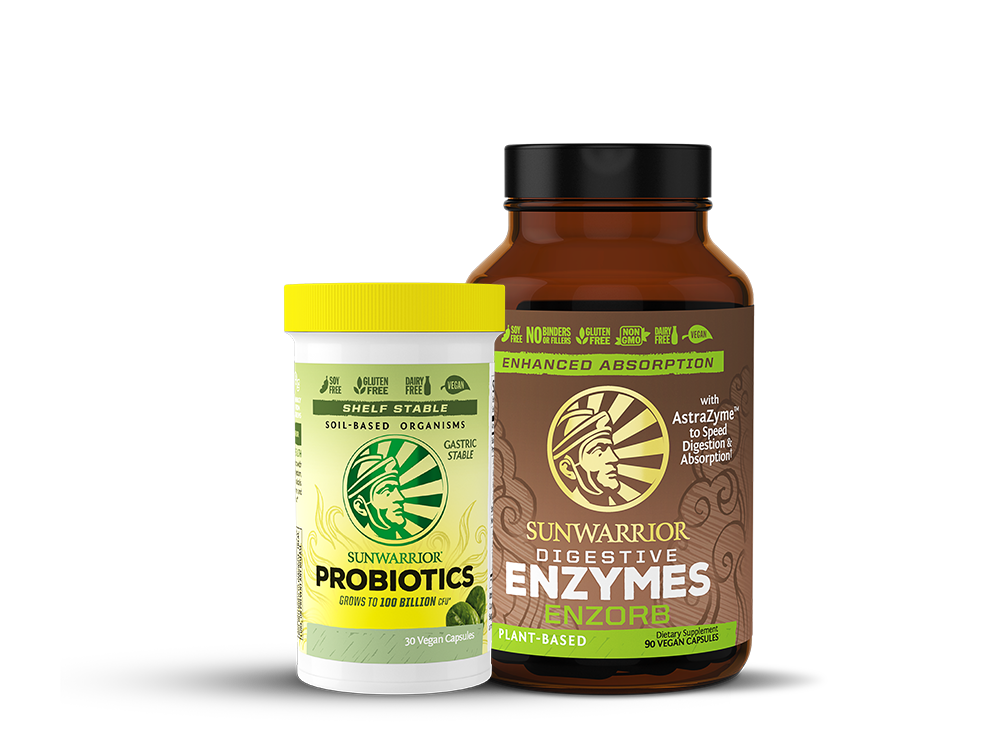 Just $69.90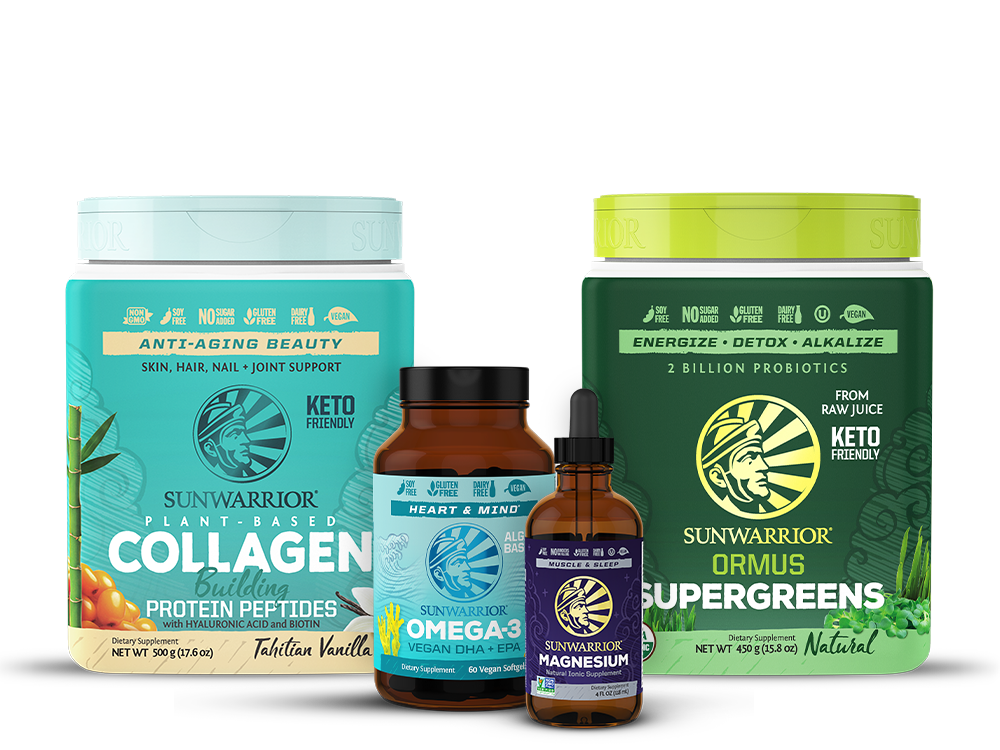 Just $134.80
Beauty Bundle
We've all heard that beauty is only skin deep. As science is now able to understand how collagen is built and utilized by the body, we've discovered that beauty truly comes from within.
The Beauty Bundle helps prevent aging from the inside out with a powerful formulation of vital nutrients that relieve stress, refine wrinkles and reduce signs of aging.
OMEGA-3 – Algae-derived DHA & EPA give your body the essential fatty acids it needs to stay moisturized internally and externally.
COLLAGEN BUILDING PROTEIN PEPTIDES – Boost your production of collagen, a naturally occurring substance that gives tissue its elasticity, to keep skin firm and youthful.
MAGNESIUM – is known as a beauty mineral, calming nerves and soothing tense muscles associated with stress-related aging.
ORMUS SUPER GREENS – Grown in a fertile valley rich with volcanic soil, this blend of organic alfalfa, barley, wheat grass, moringa and oat grass is made with a patented cold-drying system that preserves crucial phytonutrients. Our greens are also extremely high in superoxide dismutase, an anti-aging enzyme that promotes longevity.
Get Lean Bundle
Whether you're wanting to drop those final five to ten pounds or you're at the start of a total body transformation and want to lose a lot more, this bundle will provide the necessary macro-nutrients, minerals and alkalinity to help you see fast results. Plus, since you're giving your body the nutrients it needs, you won't feel hungry.
COLLAGEN BUILDING PROTEIN PEPTIDES
ORMUS SUPER GREENS
ILLUMIN8 – covers your most important nutrients: organic plant-based protein with a full amino acid profile, gluten-free complex carbohydrates, healthy fats, whole food vitamins, minerals, fiber, enzymes, and probiotics. Additional superfoods such as baobab, chia, flax, whole grain brown rice, kelp, holy basil, guava, and coconut all come together in illumin8.
MAGNESIUM – Magnesium is the essential mineral that helps with over 300 functions in the body. Some of which include energy production, stress relief, the regulation of blood sugar, and even the regulation of cortisol levels. Magnesium also promotes healthy deeper sleep. All of the above benefits from Magnesium, plus many more, assist in getting to and maintaining a healthy BMI (body mass index).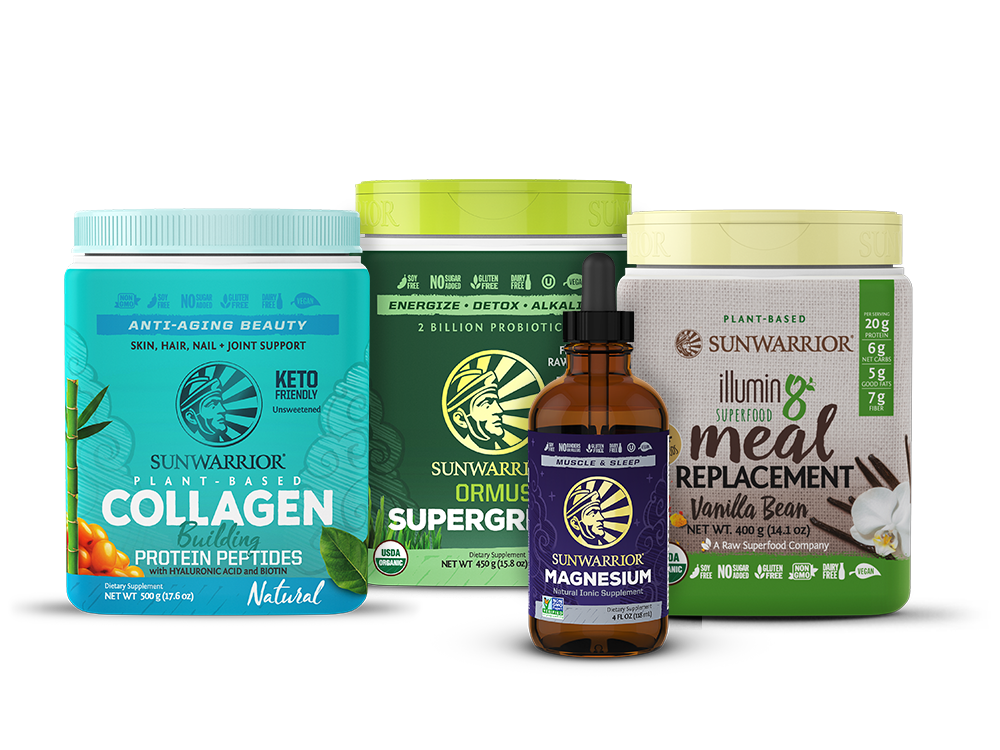 Just $143.82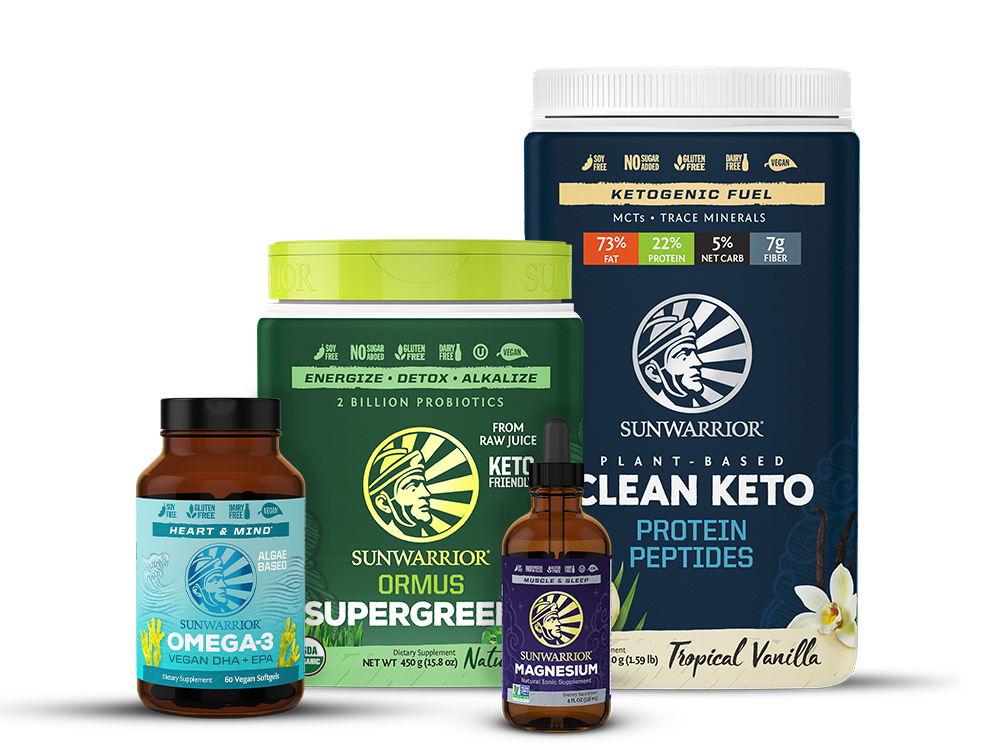 Just $144.80
Vital Keto Nutrition Bundle
If you're practicing the Keto diet, it's important to ensure you're consuming enough leafy greens, omega-3s, magnesium and of course, vitamins. The Vital Keto Nutrition Bundle ensures your body has the nutrients it needs function at maximum capacity during ketosis, so you can relax and focus on your life.
Clean Keto – Clean fat from coconut MCTs, Organic fermented pea protein, fava bean protein, prebiotic fiber and organic brown rice peptides, provides the right macros to help you stay in ketosis and burn fat as fuel.
ORMUS SUPER GREENS
OMEGA-3 – Algae-derived DHA & EPA give your body the essential fatty acids it needs to reduce inflammation and promote healthy vision, joint and brain health.
MAGNESIUM – Especially essential for those on the Keto diet, this mineral helps to relax muscles, relieve constipation and improve brain function.
Brain Health Bundle
As Hippocrates said, "All disease begins in the gut". We know that brain fog, fatigue, memory and digestive issues are all directly correlated to leaky gut syndrome—a condition in which bacteria permeates the lining of the small intestine and enters the bloodstream.
The Brain Health Bundle improves your memory and brain function by strengthening the lining of your gut with a fortified formula of plant-based extracts and (the good kind of) microscopic organisms.
COLLAGEN BUILDING PROTEIN PEPTIDES 
OMEGA-3
PROBIOTICS – A leaky gut is usually riddled with bad bacteria, causing intestinal upset and other symptoms. Replace the bad guys with good bacteria to improve digestion and enhance mental clarity.
VITAMIN MINERAL RUSH- A liquid vitamin/mineral complex that comes entirely from raw plant sources loaded with phytonutrients, like fulvic acid, that deliver our plant-based mineral complex for increased absorbability.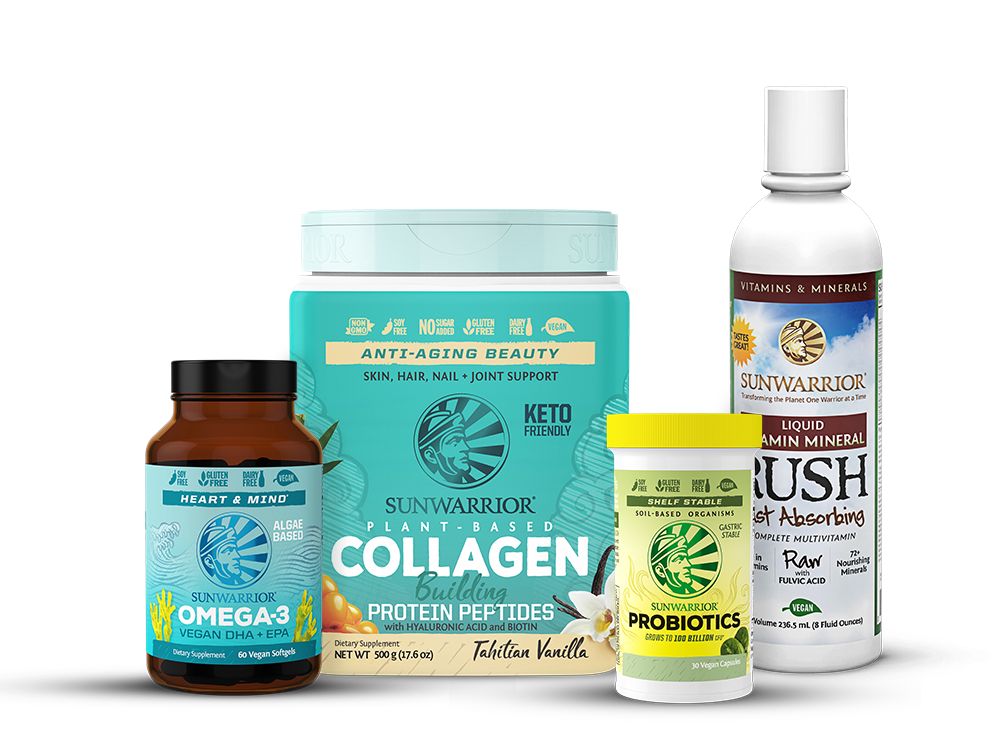 Just $139.80
Joint Health Bundle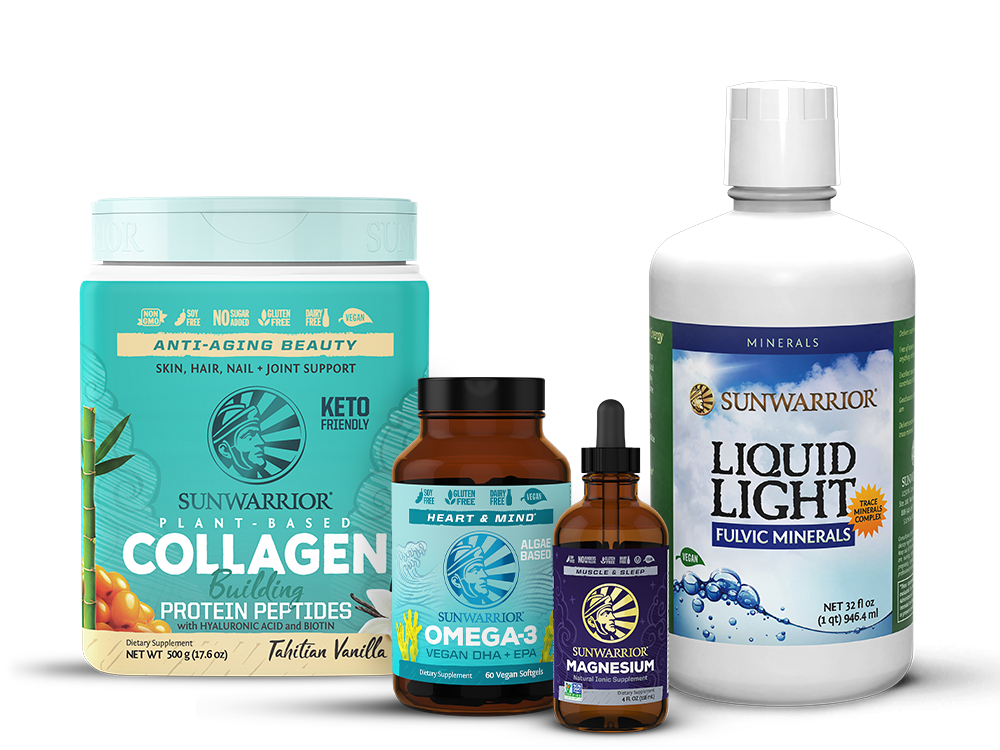 Just $119.80
Gut Health Bundle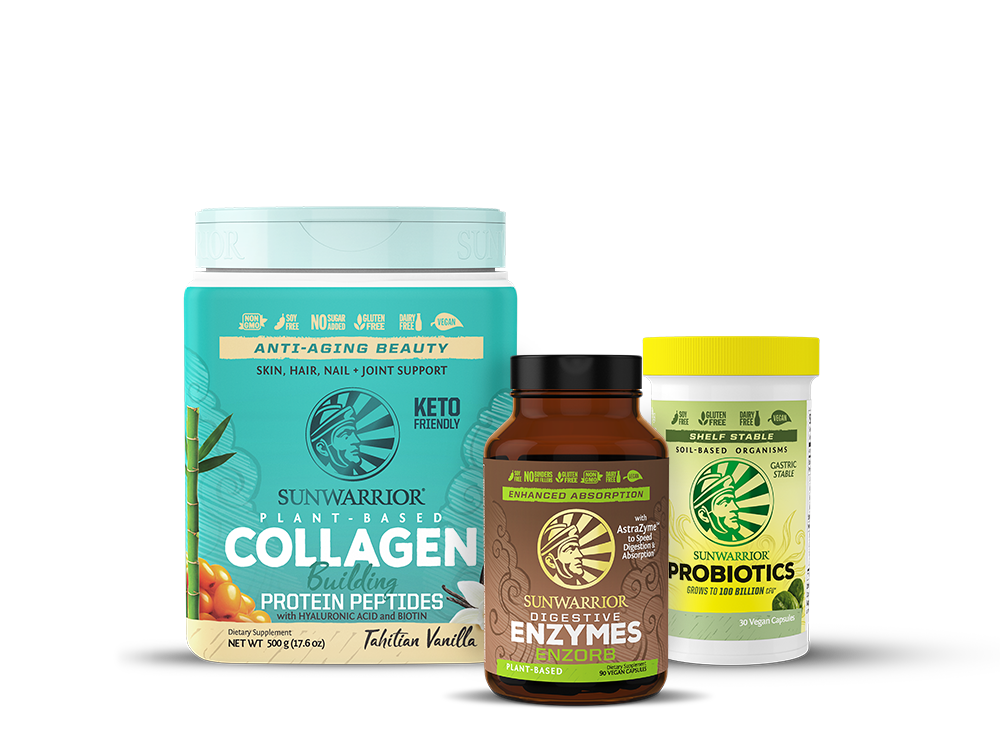 Just $104.85
Cellular Health Bundle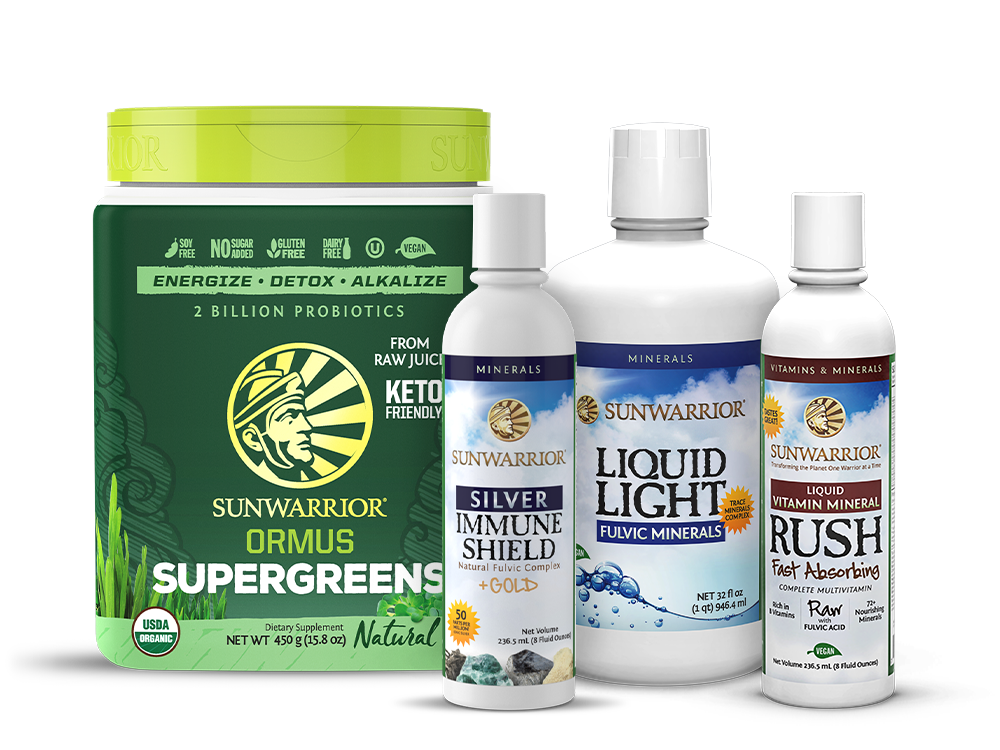 Just 149.80
Alkalizing Vegan Proteins for Smoothies
Mint Chocolate Collagen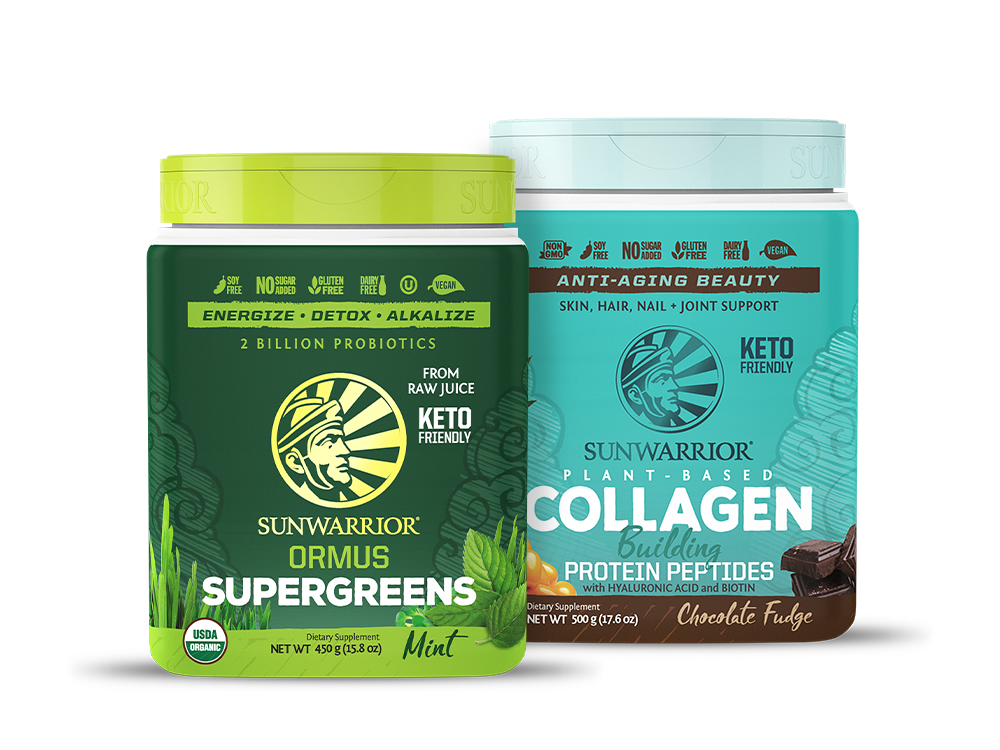 Just $84.90
Chocolate Collagen Mocha Heaven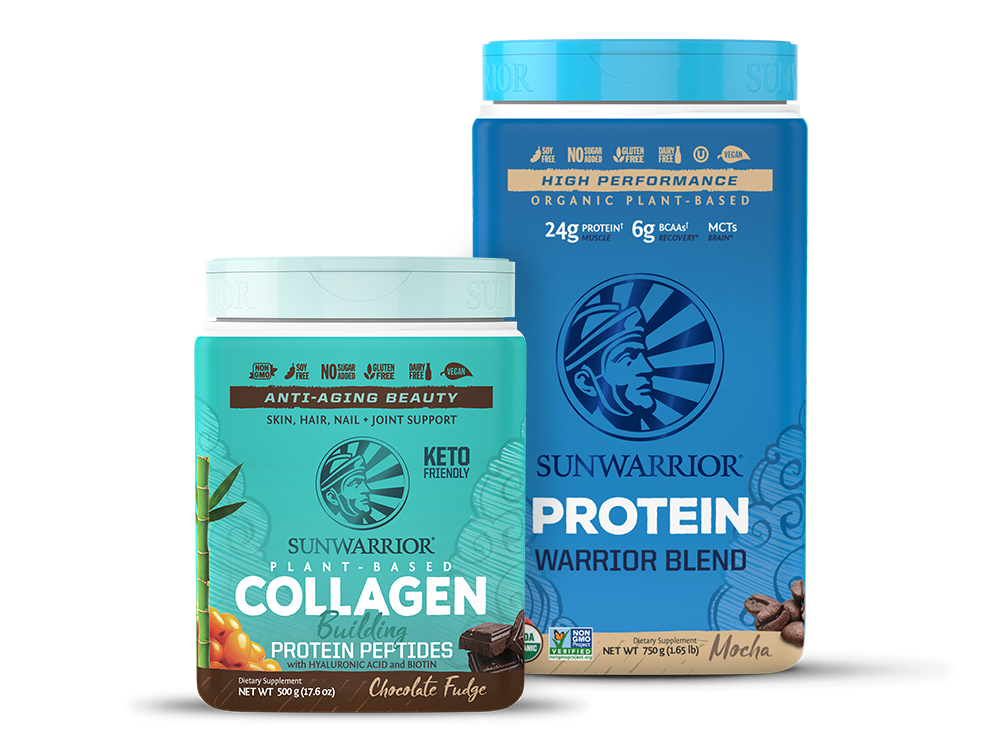 Just $84.89
Berry Vanilla Collagen Bliss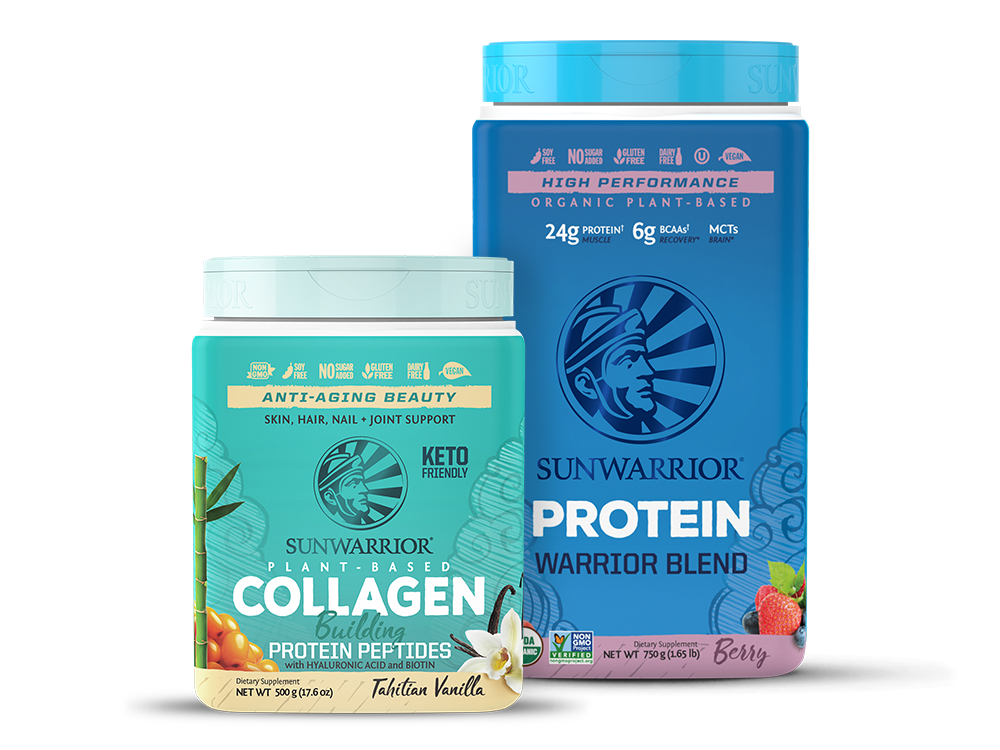 Just $74.94